How We Came to Unschooling
Today I would like to welcome Darcel, who has written a guest post on unschooling. She is a mother of two beautiful daughters (with one on the way), a wife, and an advocate for attachment parenting and unschooling. You can normally find Darcel over at The Mahogany Way, her website on motherhood, breastfeeding, and more; or at her networking site, a place for mothers of color to discuss natural living. Today, I have a guest post on The Mahogany Way. So, once you're done reading Darcel's thoughts on unschooling, head on over to find out some answers to the frequently asked questions of parents considering homeschooling.

The Beginning of Our Unschooling Journey
Let me take you back to the summer of 2008. Charles and I were discussing homeschooling, and we both agreed it was something we would never do. I have since learned not to use the word never, because I have eaten my words on several occasions now.
We had just enrolled Nakiah in a speech therapy program through the county earlier that spring. Someone came out to the house to evaluate her, because we were concerned with her speech at the time. We told them all of the things she was doing so well, how active she was, how she could work the computer by herself at the age of two. They did not care about any of those things. They told us that her speech was what was important if she were to keep up with her peers once she started school.
Back then I took the advice of someone I had just met; I realize now how stupid I was. I know my child better than anyone else.
Nakiah would come home with her arts and crafts, and we would stop in from time to time and check up on her. I started to think that everything they were doing with her, I could do at home.
Who Determines Normal?
I researched speech for three year olds and found that there was a wide range of what was considered to be "normal" for her age range.
Then I started to wonder why  they refused to recognize all of the things that she excelled at.
We attended a Parent-Teacher Conference and went over the plans for after summer break. They wanted to move her into a bigger room with about 25 kids and one teacher. At the time she was in a room with 10 kids and three different teachers.
I explained to them that I didn't think she would work well in an environment like that. Their response "She's going to have to adjust. That's how it's going to be when she starts public school anyway."
That statement didn't sit right with me. I knew she didn't like large crowds and seemed to do much better with smaller groups and one on one attention.
I also thought that if this is how they treat a child so young, how will they treat her as she gets older?
I Can Homeschool!
Later that week I woke up with homeschooling on the brain. I went to the library and picked up several books on homeschooling. My neighbor let me borrow one of John Holt's books: Learning All The Time.
After reading all of the books, something clicked in me. I thought, "I can homeschool my kids!"
I started to realize that there was nothing wrong with Nakiah. She was learning at her own pace. She was unique and her strengths deserved to be recognized, no matter what anyone else tried to tell us.
She most certainly did not have to sit in a classroom with 25 kids and be put into a box. We had a choice!  We didn't have to do anything we weren't comfortable with.
I started really researching unschooling towards the end of the year. I found Sandra Dodd's website and Joyfully Rejoycing.
It all sounded so perfect to me. I realized I was already doing everything the school had done with Nakiah. We did crafts, coloring, puzzles, pretend play, we had music around the house, we played outside, she helped me cook.
Most importantly, we were following her interests and going at her pace.
Personalized Learning
When I approached Charles with the idea of homeschooling he said NO right away. He thought homeschooled kids were weird and wondered how they would socialize. Those were my initial thoughts, too.
We started researching together, and he agreed to give it a year trial run. He really didn't like the term unschooling, so I decided to call it "Personalized Learning."
We started last April. It's been a year and unschooling has transformed our family. The way we interact with each other, the way we respond to our kids, the way we trust in them; it's amazing!
It hasn't always been easy, but the good outweighs the bad. I wrote to one of the unschooling lists two weeks after we had started unschooling. You can find my letter here: Thoughts on Changing.
Unschooling is becoming more than another way to homeschool, it's becoming a lifestyle.
It changes the way we think, act and feel about the world around us.
The world is our curriculum. I love watching my naturally curious girls explore the world around them.
Nothing is out of reach.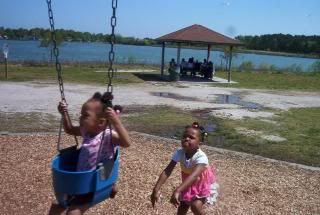 6 Responses to:
"How We Came to Unschooling"
Nurture bookworms with Usborne!