Paint Your Own Stained Glass Windows
For the next several weeks, I am going to feature one outside activity each Thursday instead of the regular "Toddler Activity Schedule." The weather has been so beautiful (and we've been so busy planting) that we haven't had time to do any structured indoor projects.
Quite honestly, we rarely need anything structured to do outside. Kieran is content playing in the dirt, his sand table, on his swing, or otherwise just enjoying the sunshine. Sometimes he needs a hand finding something entertaining to do, but it is nothing compared to last year – when he was newly toddling he still wanted to be attached to my hip 99% of the time. Now his imaginative play and independence have simply exploded. Here are some recent examples of how he has played solo outside:
Walking next to one of his riding toys, he said: "This my company." Tom asked what kind of company, Kieran replied "a band-aid company. I sell band-aids!" (He has taken several spills lately which resulted in band-aids, hence the fascination.)
He "plays" with friends of his who aren't actually there. Not imaginary friends, per se, because these are real people – they just happen to be elsewhere at the time. Last week he played a rousing game of hide and seek with "Indy."
He's been playing "house" out back – taking naps on sidewalks, cooking stew in the sand/water table, going potty on the stairs (see tomorrow's post for more on that one) . . .
But it's still fun to do something "special" and more structured once in awhile – mostly because it will give him fuel for later imaginative play. With that in mind, here is a fun (but messy) outside painting activity. You could do this inside too, but I'm not sure I'd try it with a toddler.

DIY Stained Glass Windows
Materials
Masking Tape
Newspaper or Drop Cloth
Containers (to mix paint)
Powdered Tempera Paint
Clear Liquid Dish Soap
Paint Brushes
Messy Clothes &/or Smock
Instructions
1. Tape the edges of the window you'll be painting on. We painted on our back porch door, so I taped around the bottom and side edges of the window.
2. Put down newspaper or drop cloth to catch drips.
3. Mix powdered tempera paint with dish soap until it is the creamy consistency of house paint.
4. Let your child paint a stained glass masterpiece.
5. To clean the window, wipe with a dry paper towel (or a rag that you don't mind getting stained).
A Note of Warning
Have a wet towel handy to wipe hands and feet. When we did this project, it was just me and the two kiddos you see here. At one point, Kieran decided to paint his hands. Then he clapped. The paint splattered, getting in his eyes. I didn't want to leave Molly alone while I tended to Kieran, so I herded them inside (a very difficult task while one kid is screaming bloody murder and the other was not done painting). Once we got into the kitchen I noticed that all 3 of us had paint on our feet. So after I washed hands and eyeballs, I spent 20 minutes scrubbing paint out of the carpet.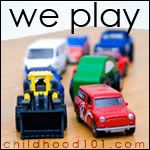 13 Responses to:
"Paint Your Own Stained Glass Windows"
Nurture bookworms with Usborne!