Bean Bag Toss
In the rare moments that rocks and sticks don't occupy your toddler's time outside, here is a game that you can suggest. This game of Bean Bag Toss works on eye/hand coordination, gross motor skills, and you can even add in a review of shapes for good measure. All you need is sidewalk chalk and bean bags (or something you can throw that won't roll).
Grab some sidewalk chalk and ask your toddler to name some shapes. We drew circles, squares, and triangles. Explain that the object of the game is to toss the bean bags into the shape. Then take turns throwing the bean bags. Super easy!
Be sure to let your toddler improvise on the rules if he so chooses. If he wants to throw backwards, set the bean bags along the edge of the shapes, or just take the sidewalk chalk and color – that's ok! You've given him some tools, now let him use his imagination. Follow your child's lead in play.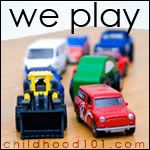 Come over and play at the Childhood 101 We Play link up
7 Responses to:
"Bean Bag Toss"
Nurture bookworms with Usborne!