Self-Pitching Wiffle Ball
Kieran loves baseball.
Loves. It.
If he had his way, we would be playing "throw-catch" or someone would be pitching a ball to him during most of his waking hours. He has a T-ball tee, but he'd much rather hit a moving target. To save my sanity (and my pitching arm – ha), I discovered this little trick:
Simply hang up a wiffle ball with some twine – I hung it on a tree branch. Kieran gets to swing at a moving target, I can cheer him on from the shade of the same tree. It's a win-win!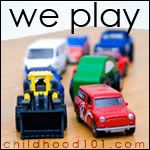 Come over and play at the Childhood 101 We Play link up
10 Responses to:
"Self-Pitching Wiffle Ball"
Nurture bookworms with Usborne!