How To Create a Pirate Treasure Hunt & Other Easy Outdoor Pirate Activities (June Carnival of Natural Parenting)
Welcome to the June Carnival of Natural Parenting: Outdoor fun
This post was written for inclusion in the monthly Carnival of Natural Parenting hosted by Hobo Mama and Code Name: Mama. This month our participants have shared their stories and tips for playing outside with kids. Please read to the end to find a list of links to the other carnival participants.
***
Avast, ye scurvy dogs! If your little ones love pirates, this is the special outdoor activity for you. It takes some preparation and work, but the payoff is well worth it.
Kieran has been into pirates. We've read all of the pirate books we can get our hands on at the library, he is the proud owner of a pirate jack-in-the-box, he likes to run around the house yelling "argh! matey," and our raised garden square out back has been dubbed "the pirate ship."
One of the recurring story lines in any pirate book is buried treasure, so I decided to make a little adventure for Kieran.
The first thing I did I had Tom do was draw a map. He used landmarks from our backyard and drew an easy path for Kieran to follow to the "X" that marked the spot of the treasure.
Next, I came up with a letter from a pirate captain. I used this site to find some good pirate phrases. Tom "aged" all of the paper we used by dabbing it with a used coffee filter and crinkling it up.
I buried some treasure in his sand table. I buried a few shiny rocks (they have shiny gold flecks – like real treasure!), old costume jewelry, and small toys. We got the (cheapo) pirate hat and spyglass from a party supply store, I had the pirate stickers and tattoos in a box saved for a rainy day. 1
When the sandbox was in place with the treasure buried, I told Kieran that he had mail. He opened up the envelope and we read the letter together, then it was time to go find the treasure. I guided him through yard according to the map's directions, and then he "opened" the sandbox with the key from the envelope. He dug up all of the treasure, and then he asked to do it again.
Other Outdoor Pirate Activities
1. Turn a play structure into a pirate ship using only your imagination.
2. Swab the deck by mopping a patio with water.
3. Walk the plank by sliding down a slide. 2
4. Decorate and fly Jolly Roger flags.
5. Make and decorate spyglasses using cardboard tubes, construction paper, and tape. (Simply tape construction paper around the tube.)
6. Play a modified game of "Red Light Green Light": Kids run around like crazy pirates when you say "Ahoy, Mateys!" Kids freeze when you say "Thar she blows!" (or pick your own pirate phrases to use)
And when you're done with that, check out this fun Eric Herman song about pirates – fun for kids and adults!
Do your kids like pirate play? Please share some of the ways you like to play pirates at your house.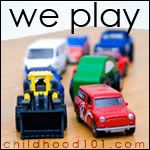 "Come play at the Childhood 101 We Play link up
***

Visit Hobo Mama and Code Name: Mama to find out how you can participate in the next Carnival of Natural Parenting!
Please take time to read the submissions by the other carnival participants:
There is no reason to spend money on new toys for this activity. We've done it since then using only his old sandbox toys as the "treasure," and he has just as much fun. Probably more fun, because there isn't the added pressure of "oh's and ah's" for the new toys. ↩
Use your judgment on whether this is too morbid for your kids. ↩
25 Responses to:
"How To Create a Pirate Treasure Hunt & Other Easy Outdoor Pirate Activities (June Carnival of Natural Parenting)"
Nurture bookworms with Usborne!