Toddler Storytelling Activities and Keepsakes
When we were first dating, I would often cuddle up to Tom and implore, "tell me a story!" Telling stories was a fun way to get to know each other, and later it could break up the monotony of a busy week or provide entertainment for one of our many road trips.
Kieran, too, has the storytelling gene. Even before he was sitting up on his own, we regularly captured his attention with a good picture book. The word "book" was one of his first signs before he could talk. Once he started walking he didn't have to wait for us to bring him a book, he could pick out his favorites and bring them to us. And now, although he much prefers to have books read to him, he has been known to sit and flip through books on his own.
Aside from books, he loves for us to tell him stories. Stories we've read, stories we make up, and his favorite – stories that feature Kieran as a character. But the best part? Now that he has an active imagination and a firm grip on what "pretend" means, he loves to make up stories of his own.
One of the best potty learning tools we stumbled on is to help Kieran tell stories while he is using the potty chair. As he tells the story, I write it down in a notebook, and then I read it back to him after he says "The End." He loves that his stories are physically on the page. He gets a kick out of me telling the stories back to him. We've also gotten him to tell a few stories on camera, which he loves to watch.
Kieran Story #1
Nemo, Nemo's Papa, Kieran Shark, and Baba Shark all went swimming. Nemo went first. He swam. It was dark. Baba Shark and Nemo's Papa swam too. Kieran Shark was writing and drawing. Kieran Shark was writing a story about Nemo being lost and Nemo's Papa finding him.

The End.
Here are a few ideas to help encourage your toddler to tell her own stories:
Tell plenty of your own made-up stories: don't rely on books for storytelling, use your imagination! Toddlers don't care much about plot or character development, so pick a simple storyline and go for it. I've told stories about crocodiles flying, aliens landing at the playground, fish playing hide and seek, and the sun being too tired to rise in the morning.
Read story books without words: sit with your toddler and look at books without words – you can both make up a story as you flip through the pages.
Use Props: bring out some stuffed animals, puppets, or toys and start a dialogue between them. Hand one to your toddler and help her join in the fun.
Ask questions: it is a rare (and very short) story if Kieran tells it without some prompting questions from me. When he first started telling stories, I would ask questions like "who is the story about?" "where were they?" "what were they doing?" "and then what happened?" (I ask this one a lot).
Write the stories down: like I said, part of the allure of storytelling for Kieran is the fact that I am recording his stories and retelling them. It makes them just as important as the books we borrow from the library or buy from the store.
Kieran Story #2
Kieran Alligator bit Mama Alligator. Mama Alligator said "wooo!" Papa Alligator played with Kieran's toys. Kieran Alligator took turns with Papa Alligator. Mama Alligator had an "ouchie". Kieran Alligator gave her a band-aid.

The End.
Ways to preserve your child's stories:
Create a Construction Paper Book: use construction paper, a hole punch, and yarn to create a keepsake story collection. Each time your toddler tells a story, record it in her book. Let her get it out and read the stories together
Create a "Real" Book: if you have a bit more money to spend, use an online program to create your own hardback or paperback book of your child's stories.
Keep a Notebook: your toddler probably won't care how you keep his stories, so at the very least just keep a notebook handy to record them. When you have a few extra minutes, you can type them up and save them electronically.
Illustrate/Frame a Picture: ask your child if she would like to draw a picture to illustrate one of her stories. Alternatively, type the story and print it out, and have your toddler color on the paper. Display the story and picture on your bulletin board or in a frame.
Record a Video: grab a camcorder and let your toddler narrate a few stories on video.
Do you encourage your toddler to tell stories? What is your favorite story that your toddler has told?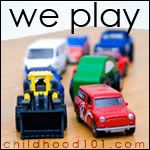 "Come play at the Childhood 101 We Play link up
11 Responses to:
"Toddler Storytelling Activities and Keepsakes"
Nurture bookworms with Usborne!