Dice Play for Toddlers and Preschoolers
Kieran has been fascinated with dice since before he was two years old. He loves the combination of the sounds of clinking dice, the dots on them, and the colors (we have red, green, and white dice). I didn't give him dice as an educational activity, but just for fun, here are a few ways that dice play can benefit toddlers and preschoolers.
Dice Play Can Help Develop Motor Skills
Before toddlers can count (but after they are past the danger of mouthing dice1), dice play can be a good way to practice developing fine motor skills. It takes some concentration to pick up, hold, and toss several small dice. These fine motor skills will continue to develop for the next several years, and handling/manipulating small objects like dice are an important part of that development.
Fine Motor Skills Dice Game: Moving Marbles
Items needed: one die (dice), marbles, an ice cube tray, a melon or cookie dough scooper
Advanced play: Take turns throwing the die. Count the dots. Using the scooper, scoop as many marbles out of the ice cube tray as are indicated by the die.
Easier play: For toddlers who can't count yet, let them watch/help you count the dots on the die. You can put the marbles in a bowl if the tray compartments make it too hard to scoop the marbles. For toddlers who are not coordinated enough to scoop yet, let them use their fingers to move the marbles.
Gross Motor Skills Dice Game: Animal Planet
Items needed: one die, paper and pen, (optional) 6 different animal stickers or pictures to afix to the paper
Play: Assign a number from one to six to six different animals. I used an old children's magazine and cut out pictures of a lion, a kangaroo, a fish, a cat, an elephant, and a monkey. Roll the die. The number on the die coordinates to an animal – everyone gets up and acts like that animal for a minute. Next person rolls, repeat.
Optional: instead of using a small die and paper, get a small box and tape the animal pictures to each side of the box. Act like whatever animal is up when they roll. The larger box and the "acting" will both help develop gross motor skills.
Dice Play Can Develop Math Skills
You can count the dots on the side of the dice even before your toddler is counting. And once he learns to count, you can expand your dice play. "Games with dice, or with tokens that progress around a path, help children learn number recognition and make the concrete connection to the meaning of numerical concepts. Children responding to "Move two spaces" or "Go back three" are actually learning simple addition and subtraction."2
Easy Math Skills Game: Mountain

Items needed: one die, paper and pen (use this to draw a mountain, then  write the numbers 1 2 3 4 5 6 up to the top of the mountain – 6 being at the very top – then 5 4 3 2 1 back down the mountain on the other side; or you can just print this printable)
Play: The object of the game is to get up and back down your mountain (each player has her own mountain). Taking turns, roll until you get a one – you can cross off the one or use a game piece to mark the number one. Then roll for a two, three, etc. The site I found this game on talks about "winners" and who can climb their mountain "first," you can easily do this game without declaring a "winner" by just continuing on until everyone has had enough.
Dice Play Can Develop Language Skills
Using several dice, you can help your little one start learning patterns and sequences. Sequencing and ordering are building blocks of language development (think of how our brains have to arrange letters to form words).
Language Skills Game: Simple Yahtzee
Items needed: five dice, paper and pen (we usually use a large MagnaDoodle when we play – this is Kieran's current favorite game)
Play: Here is a link to the traditional form of Yahtzee. You can modify these rules to your child's level. We play to get 2 pair, 3 of a kind, 4 of a kind, full house, small and large straights (we used to just look for any kind of straight, now Kieran can differentiate), and Yahtzee. We do not try to get the most number of 1's, 2's, etc. We do the traditional three rolls. We do not play to "win," we just play and see what we can get on each roll. So, for example, in traditional Yahtzee if you don't get anything on your turn, you'd have to mark a "zero" next to one of your boxes. We don't do that. We often have multiple full houses and 3 of a kind's. It doesn't matter – we just play until Kieran gets tired of rolling.
What kind of dice games do you play with your toddler or preschooler?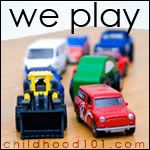 Obviously only parents can make the call on whether their little ones are ready for dice, and it is an activity that should be supervised. ↩
Alvin Poussaint, M.D. and Susan Linn, Ed.D., Puzzles and Games for Preschoolers ↩
12 Responses to:
"Dice Play for Toddlers and Preschoolers"
Nurture bookworms with Usborne!