Wall Racetrack

The heat index has been surpassing the 100 degree mark for awhile here in Kansas City, so unless we are outside in the water, we're not outside.To interrupt the boredom of being stuck inside for days on end, we created an indoor racetrack for Kieran.
Moving play to a different location has some nice side benefits1:
*It allows your child to think creatively;
*It invites your child to explore and interact with her playthings in novel ways;
*A change of scenery may facilitate new learning opportunities. For example, in the short time Kieran has been playing with his wall racetrack, we've already had a discussion about gravity, after he commented on the fact that the cars do not stay on the track unless he is holding them.
*In the case of the wall racetrack, it is a great way to utilize a small play area – you build the play space up instead of out.

Here's how we created our wall racetrack:
1) Get a big piece of paper: we have a roll of butcher paper that is perfect.
2) Draw your tracks: we laid wooden railroad tracks down in a fun shape that fit our paper and traced them with pencil.
3) Pretty it up: we traced over our tracks with marker, added yellow lines in the middle, drew a checked start/finish line, and added a sign that says "Welcome to Kieran's Speedway."
4) Attach it to the wall: we used tape.
Have you been dealing with too much time inside? How do you chase away the boredom that comes with the summer heat?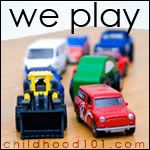 10 Responses to:
"Wall Racetrack"
Nurture bookworms with Usborne!