Making Salt Dough Ornaments
Need a last minute, easy, handmade holiday gift? I'm excited to host a guest post today by Sara from bonzo, chooch and me. She's sharing a recipe for salt dough ornaments – you should have everything you need to make them at home! Read more about Sara at the end of this post!
_________________________
hi guys, i'm sara from bonzo, chooch and me. i'm excited to be posting over here at code name: mama while dionna's soaking in some time with her sweet family and their newest addition.
salt dough ornaments
i love crafts any time of year but there's something especially fun and festive about getting crafty during the holiday season – especially when the product will be given as a gift.
and this particular project fit all my criteria:
1. i had everything on hand – no trip to the store necessary.
2. the whole process is toddler friendly.
3. clean-up is minimal.
so when i ran across it a week or two ago, i immediately saved the idea for a cozy morning in with my best guy, bonzo.
you'll need:
* 1/2 cup of salt – i had kosher and sea salt and used the sea salt. kosher would be too chunky, i think.
* 1/2 cup of water
* 1 cup of flour
* heat the oven to 200º
* put all the ingredients in the bowl of your mixer and turn on low until it forms dough – it happens quickly. if you don't have a mixer, i'm sure a hand-mixer would work, too. i made two batches because i had a feeling we'd need extra since we wanted to do handprints.
* once you've got your dough, knead it by hand for a few minutes until it becomes smooth.
* if you're using cooking cutters, roll out some dough with a rolling pin and cut away. we used biscuit rounds and heart cookie cutters.
*to make salt dough handprints, we made mostly-equal size balls of dough for as many prints as we planned to make and rolled them into individual pancakes that were just about the size of bonzo's hand. it took a few tries to get the right thickness because if it's too thin, it won't hold up once the handprint has been made. and we sprinkled a smidge of flour onto our work surface so the dough wouldn't stick once it's pressed down on.
* make small holes in each shape and handprint with a skewer so they can be transformed into ornaments.
* arrange them on an un-greased cookie sheet and put in the oven. the original instructions said to bake them for about four hours. ours took at least seven if not a little more. seriously. i'm not sure if it's because the handprints were a little thicker but it felt like the centers were still too soft after four or five hours.
* let them cool completely and decorate away! we used washable crayola paint and let them dry overnight.
* thread ribbon or twine through the hole and there you have it: adorable, handmade ornaments that make perfect, thoughtful gifts or gift toppers.
bonzo had a blast every step of the way with this project – measuring the ingredients and dumping them in the mixer, kneading and pounding the dough, rolling it out, cutting it up and painting it. and this is one of a million reasons we love having our learning tower in the kitchen! it was such a fun way to spend time together and we couldn't be happier with the outcome. i know these ornaments will be loved forever.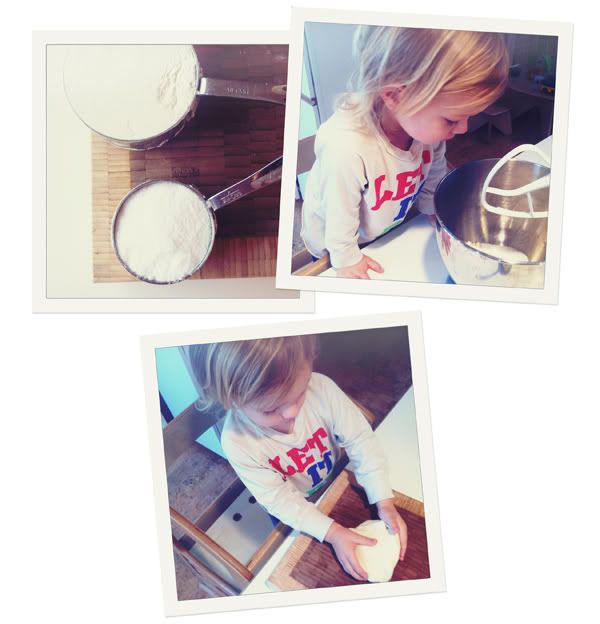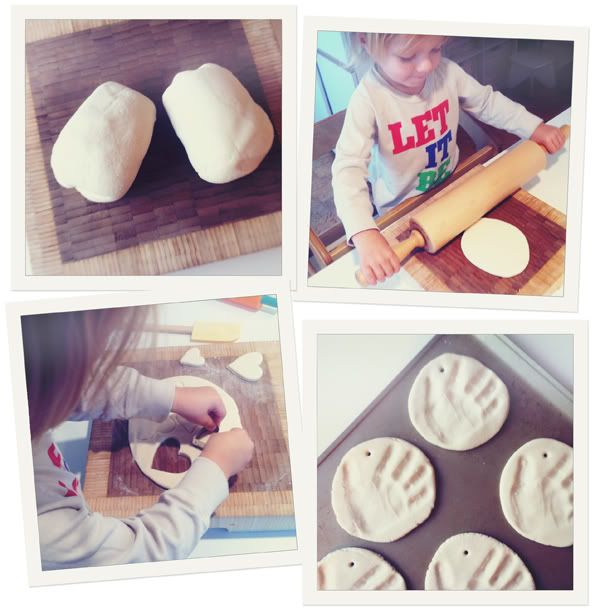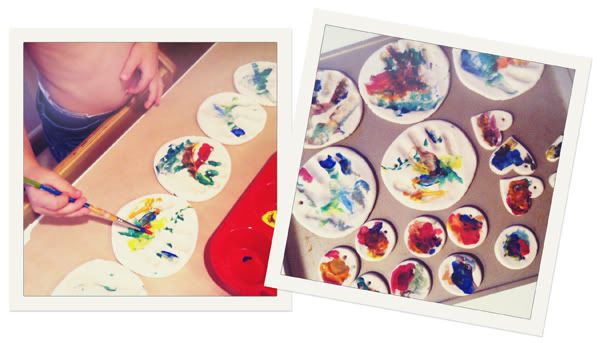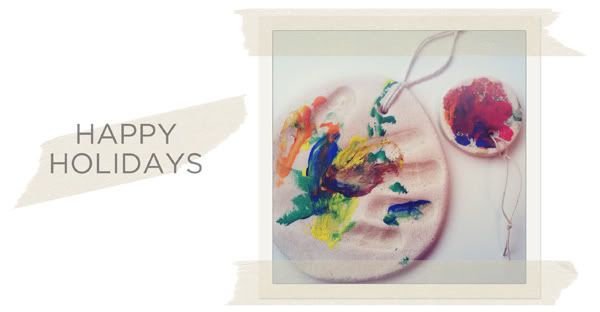 _________________________
sara is the me of bonzo, chooch and me.
chooch is her husband, bonzo's their little guy.
she writes about parenting, cooking, living, learning – and life with with bonzo and chooch!
Stop by and check out some of my favorite posts (and photography!) from Sara: Snoozer (what cute progression shots!), Happy Halloween (she needs to sell these costumes!), and her series on unconditional parenting.
3 Responses to:
"Making Salt Dough Ornaments"
Nurture bookworms with Usborne!